The Broncos legend Peyton Manning is known for having one of the sharpest and most accurate arms in the NFL. The two-time Super Bowl Champion recently shared a platform with the Soccer legend David Beckham that turned out to be a wholesome moment with Manning being impressed by the ex-England captain's throwing ability.
ADVERTISEMENT
Article continues below this ad
When two legends meet, it's always a treat to watch. The NFL superstar and David Beckham made sure that they live up to the expectations ahead of the Soccer fever that kickstarted on November 20 in Qatar.
ADVERTISEMENT
Article continues below this ad
The duo was filming a Frito-Lays World Cup advertisement, and during the breaks, they hung out bragging about their respective sports. The former quarterback took this opportunity to have an American football talk with Beckham and asked if he needed to teach him to pass the pigskin.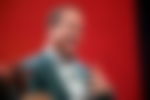 Well, to everyone's surprise, he didn't have to because Beckham was already nailing it. He threw the ball from a much wider distance. He threw his first successful pass from around 30 yards and impressed the quarterback who said, "That's good!" Although the ball wobbled in the air for quite some time, Sheriff was pleased to approve his pass.
"Good grip! I like the high release!" Manning said. He also mentioned that he had countered similar issues with wobbling during his playing days. Well, it doesn't matter anymore because he has always been a perfectionist.
DIVE DEEPER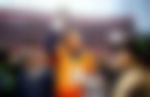 After throwing for some time, both the stars decided to swap their sports. However, Manning got insecure admitting that Soccer was not something he actually fancied. "I can't do his sport," Manning said.
Peyton Manning invented the wobbly throws
ADVERTISEMENT
Article continues below this ad
In an illustrious career of 18 seasons, the quarterback clinched two Super Bowl titles and five MVP awards. He got inducted into the pro-football Hall of Fame in 2021. No more specifications are necessary to explain his career achievements.
One of the iconic marks Manning left behind is those wobbly throws. Although he admitted to having launched them occasionally, it brought him great success. "It doesn't matter what the ball looks like, it's always in the right spot," said his former teammate and late WR Demaryius Thomas.
ADVERTISEMENT
Article continues below this ad
"It's like catching tissue paper. It's so easy to catch, it really doesn't matter if it's a spiral or wobbly," he explained in one of the past interviews. Well, these reasons justify the fact that Manning would go as one of the greatest athletes to play this sport.
Watch This Story : Former Bucs Star And 5x Pro Bowler Signs With Tom Brady's Rivals For A Confirmed Playoff Season