Controversial WNBA star Brittney Griner is on her way to a Russian penal colony. After months of legalities and failed negotiations, it seems serving nine years in Russia is probably Griner's only option now. However, a prisoner swap deal, which is being discussed for months might be her last hope.
ADVERTISEMENT
Article continues below this ad
Due to the complexity of the case, negotiations have been incredibly slow and tough. Interestingly enough, a Twitter user feels that former POTUS Donald Trump would've had Griner back in the States by now. With this tweet doing the rounds of the internet, people across the platform have chimed into the conversation.
ADVERTISEMENT
Article continues below this ad
Interesting take about Brittney Griner urging users to react
Phoenix Mercury star Brittney Griner has the whole world talking about her. While some feel she should be brought back to the USA, another section feels she should do her time.
She was arrested earlier this year when officials detained her at an airport near Moscow. Officials found vape cartridges containing cannabis oil in Griner's luggage.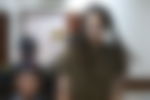 Subsequently, she was sentenced to nine years in prison and she is currently in a penal colony. People on Twitter feel Donald Trump would've done a better job than the current Government led by Joe Biden. In fact, the user feels Griner would have been back home by now.
Here are some of the reactions to the interesting Trump take.
I was literally just thinking this. You don't have to even like Trump to admit this is probably true. All that matters is that she's an American, he's a businessman, and he would have jumped at the chance to be a hero.

— MrMatthews (@DefinitiveMrM) November 17, 2022
You guys live on pure fantasy.

— ImCrius @ImCrius@nerdculture.de (@ImCrius42) November 17, 2022
As the above reactions suggest, there are supporters for both sides of the argument. Interestingly enough, Donald Trump has made his feelings for Griner known. Needless to say, he isn't quite keen on the basketball star.
Trump once bashed Griner publically 
From celebrities to athletes to politicians, people around the world have given their opinions on Brittney Griner. With widespread media coverage, she has been in the limelight for quite some time now.
A few months ago, former POTUS Donald Trump talked about Griner. He referred to her as 'a spoiled person' while also bashing the officials for their steps to bring her back home.
ADVERTISEMENT
Article continues below this ad
"It certainly doesn't seem like a very good trade, does it? He's an absolute– one of the worst in the world, and he's going to be given his freedom because a potentially spoiled person goes into Russia loaded up with drugs", said Trump.
Notorious arms dealer Viktor Bout has been named in the potential prisoner swap deal that can bring Griner back home. However, the deal is far from fruition.
ADVERTISEMENT
Article continues below this ad
WATCH THIS STORY: Stern reality check from US Govt forces Dennis Rodman to go back on his words about WNBA star Brittney Griner
Tell us your thoughts about the Brittney Griner situation in the comments down below.