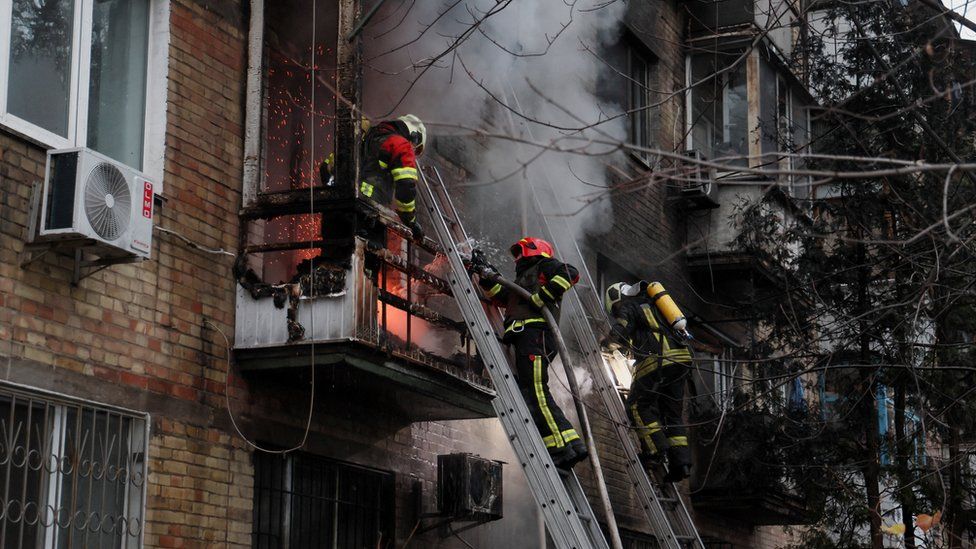 Russia has launched one of its biggest barrages of missiles yet against Ukraine, days after its troops were forced to withdraw from Kherson.
The capital Kyiv was among the cities hit, with officials saying at least one person was found dead.
There were strikes across the country, from Lviv in the west to Chernihiv in the north.
As well as following Russia's setback in Kherson, the attacks come as world leaders meet at the G20 in Bali.
There Moscow faced fierce condemnation for the war in Ukraine.
"It's clear what the enemy wants," Ukrainian President Volodymyr Zelensky said. "They will not get it."
Air raid alerts sounded across the country on Tuesday, and Kyrylo Tymoshenko, the deputy head of Mr Zelensky's office, said Russia fired over 90 missiles.
"Our air defences shot down 70," he added in a post on the messaging app Telegram.
There were also reports of power outages affecting millions of homes in several cities, as well as neighbouring Moldova.
Describing the situation as critical, Mr Tymoshenko accused Russia of carrying out "another planned attack on energy infrastructure facilities", saying 15 such sites had been damaged.
In video shared by President Zelensky's office, what looks like a block of flats can be seen on fire, with flames billowing from windows.
Kyiv resident Svitlana Romanchuk told the BBC she was lying in bed when the raid started.
"We crawled out into the corridor, there was already a burning smell," she said. "We grabbed our clothes, opened the doors and ran downstairs."
Andriy Yermak, a presidential adviser, said the strikes were Russia's response to President Zelensky's "powerful speech" at the G20.
During the virtual speech, Mr Zelensky addressed what he referred to as "G19" leaders – deliberately omitting Russia – and said he was "convinced now is the time when the Russian destructive war must and can be stopped".
In the past week Moscow has pulled its troops from the southern city of Kherson, the only regional capital it captured since launching its invasion in February.
These strikes are the first by Russia since the withdrawal was completed.
When Moscow has suffered losses on the ground during this war, it has often taken to the air to retaliate.
The UK and US were among Ukraine's western allies to condemn the latest strikes, with British Foreign Secretary James Cleverly saying Russia's "callous targeting of Ukrainian cities… shows only [Russian President Vladimir] Putin's weakness".
Antony Blinken, the US secretary of state, said such attacks would "not break Ukraine's will".