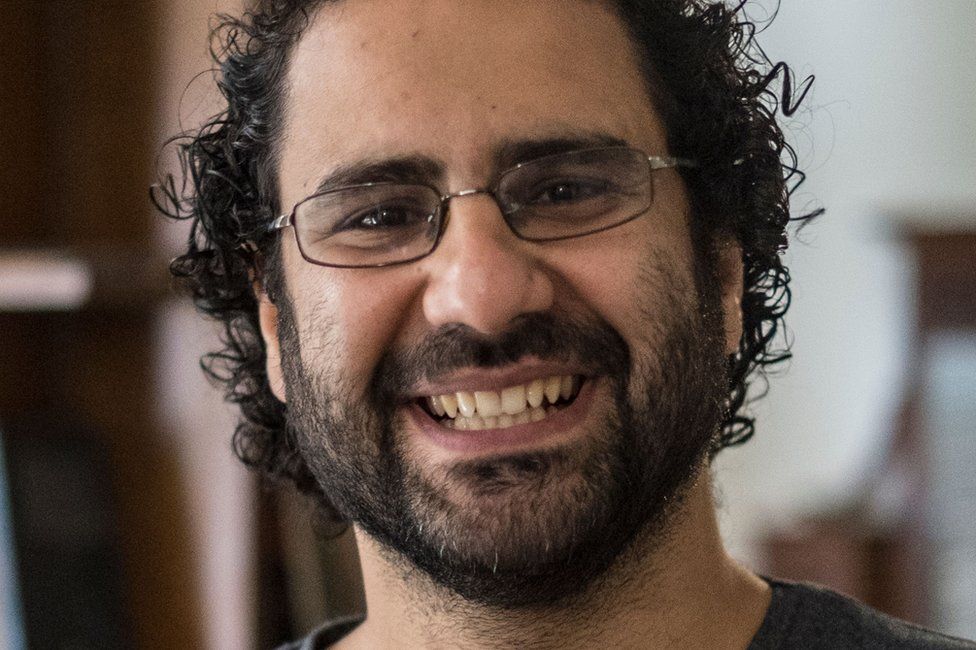 British-Egyptian pro-democracy activist Alaa Abdel Fattah has told his family in a letter that he has ended a seven-month hunger strike in prison in Egypt.
"I've broken my strike. I'll explain everything on Thursday," says the letter to his mother, dated Monday.
His sister said she felt "cautiously relieved", but that the family needed to see him with their own eyes.
It comes a day after they were handed a letter from Abdel Fattah saying he had resumed drinking water on Saturday.
The 40 year old started refusing water on 6 November to coincide with the start of the COP27 climate conference in Sharm el-Sheikh, hoping to pressure Egypt into at least allowing British consular officials to visit him.
Last Thursday, his mother was told by prison officials that he had undergone an unspecified "medical intervention with the knowledge of a judicial authority". Egypt's public prosecution meanwhile asserted that he was in "good health", without providing any proof.
The UK, UN, US and several other countries have called for his release.
Abdel Fattah's 66-year-old mother, Laila Soueif, has been waiting for news outside Wadi al-Natroun prison, in the desert north-west of Cairo, every day since he escalated his hunger strike.
On Tuesday morning, the family said, prison officials handed her a short note in Alaa's hand-writing.
It starts with him asking how she is and thanking her for the MP3 player that he mentioned in his letter from Saturday, in which he announced that he was drinking water again.
"I'll see you on the visit day and tell you everything then and we'll get back to long letters after the visit," the new letter says.
"The important thing is I want to celebrate my birthday with you on Thursday, I haven't celebrated for a long time, and want to celebrate with my cellmates, so bring a cake, normal provisions, I've broken my strike. I'll explain everything on Thursday."
This Thursday was already scheduled to be Abdel Fattah's monthly prison visit with his family. The visits typically last for 20 minutes and are conducted through a glass barrier.
The family said in a statement that they had no further information about what had happened inside the prison or what was informing Alaa's decision.
Abdel Fattah's sister, Mona Seif, said: "I feel cautiously relieved now knowing that at least he's not on hunger strike, but my heart won't really be settled until Thursday when my mother and sister see him with their own eyes."
"At one level, a very basic level, [I am] relieved. But at another level I am even more worried," she said.
"Alaa is a very serious, thoughtful, committed person. And to go on hunger strike, maintain it for 220 days and then break it, we need to know the circumstances."
Abdel Fattah's lawyer said he has been denied access to the prison three times since Thursday despite being given the necessary permits from the prosecutor general.
The British embassy has also not been able to visit Abdel Fattah to check on his health. That is because Egyptian authorities are continuing to refuse to recognise him as a British citizen despite UK Prime Minister Rishi Sunak raising his case with President Abdul Fattah al-Sisi at COP27 last week.
Abdel Fattah, who obtained British citizenship last year through his London-born mother, has become a symbol of the 60,000 political prisoners believed by human rights groups to be languishing in Egyptian jails.
He was a leading figure in the Arab Spring uprising that led to the overthrow of long-time President Hosni Mubarak in 2011.
But since President Sisi came to power in 2014 after leading the military's overthrow of Mubarak's democratically elected successor, Abdel Fattah has spent most of the time in prison or police detention.
His latest five-year sentence was for allegedly "spreading false news" in social media posts – a charge human rights groups condemned as spurious.
His family said he began a partial hunger strike in April, consuming a maximum of 100 calories a day, to protest against his unjust imprisonment, cruel detention conditions and denial of consular visits.