As a B2B trade site, GamesIndustry.biz doesn't really prioritize traffic. It's nice to see the numbers go up, sure, but it's more important that we ensure we are providing our audience of industry professionals with the news that's most relevant to them, and that our advertisers know they're paying to get their offerings in front of a targeted audience instead of the broader readership of our larger consumer-focused counterparts.
Still, it's been a rough year for the media in general, and sometimes you just have to give the people what they want.
Somebody tell the tech team to brace for impact, because for one week only, This Week in Business is turning itself into a pure click-driving traffic honey pot as we enter the listicle zone with this, our Top 5 Investor Relations Pages.
Ground rules
Financial regulators may require publicly traded companies to have these investor relations operations and keep them updated with financial performance disclosures, but there's a lot of wiggle room in exactly what gets disclosed, what gets archived on these sites, and how easy any of it is to find and understand.
Before we begin, let's lay out some basics so you we can hopefully pre-empt some of the abusive backlash from raving IR page fanboys out there. First off, we're going to assess this from the perspective of an English-speaking game journalist (specifically me). I readily acknowledge this isn't exactly fair – publishers from non-English-speaking countries in particular may have separate non-English IR pages with more detailed results that address our concerns, for example – but this is a light-hearted listicle in a weekly recap column and not a peer-reviewed scientific journal, so we're not talking about the most rigorous methodology in the world here.
However, there are some criteria we value here, and they're worth spelling out.
● Ease of Use – Is the information we need presented up front and in an easily digestible way?
● Disclosure – Is the company going above and beyond with the information it has to give investors so they can make well-informed decisions with a clear understanding of the business? Or is it trying to limit visibility into the operation and only releasing the barest minimum of information?
● History – A lot of these companies have very long histories full of impressive highs and crushing lows. Is it dutifully preserving all of that for posterity, or is it pulling a Snapchat and pretending that anything long enough ago simply never happened?
● Professionalism – Problems on this front are most likely to surface as aspects of the other three categories, but it's basically just asking if the company in question has its act together. If all you had to judge the business by was its investor relations site – not the revenues, the profits, the lineup of games, or the strategy – would you think the business had its act together?
Okay, that's enough preamble. Without further ado, let's get to the listicle.
Top 5 Investor Relations websites
I'm not a particularly big fan of EA's games of late, but I have to admit, their investor relations site is impeccable. Just take a look at the quarterly results page.
Everything is laid out in a very clean and easy to understand way, and it's so beautifully consistent. You can tap those arrows on the side to find any quarter since the beginning of 2005 with ease, and there are no gaps. Once they started archiving the webcast (Q2 of 2018), the financial model (Q2 of 2011), or the prepared remarks and earnings slides (both in Q1 2011), those became permanent fixtures.
The only blemish is a mysteriously absent Q1 2010 earnings call transcript, but most publishers don't put earnings call transcripts on their IR pages at all, so we can forgive EA going 73 for 74 on this one.
EA also has a wonderful archive of press releases as part of its IR site, preserving apparently everything the company has announced since January of 2006, when it was pushing its open-world adaptation of The Godfather and the original Crysis. Even better, each press release has contact information for the specific PR people handling that game or issue.
If I've got anything to complain about beyond that one missing transcript, it's that EA has stopped telling investors how much of their annual revenue is made up of FIFA Ultimate Team, presumably because that number was getting scary-high at last count and getting more attention from critics of the gambling-like mode than from actual investors.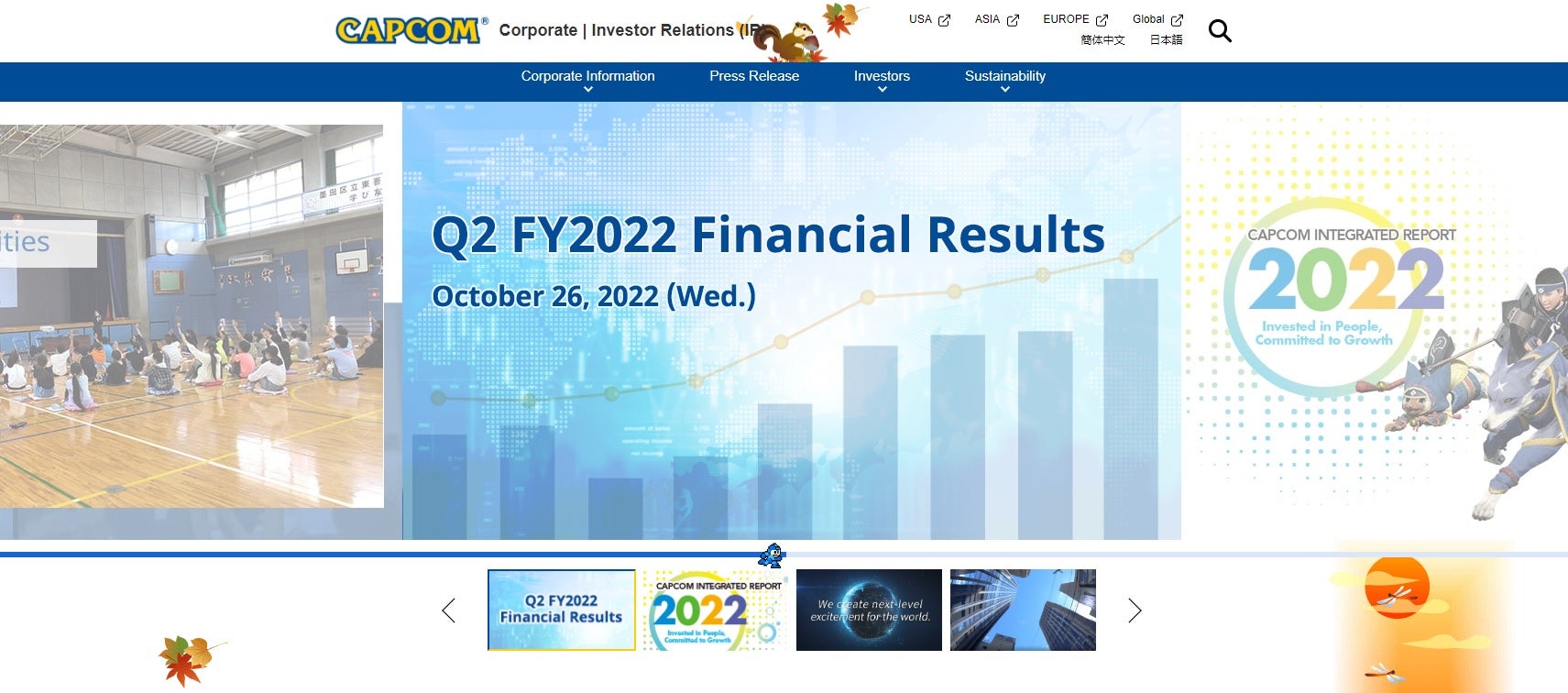 Capcom's investor relations page has always been a personal favorite of mine, and the publisher gets huge marks on disclosure. While much of the industry has moved away from providing sales information for any of their big releases, Capcom has kept a running tally of every premium game it has made that sold more than 1 million units. And since it's updated each quarter, you can use it (and the Wayback Machine) to get more specific sales figures.
STAT | 300,000 – The number of copies Resident Evil 7 sold last quarter.
STAT | 110 – The number of million-selling games Capcom has released. The bottom three on the list, each with 1 million sold (give or take 5,000) are Dead Rising 3 Apocalypse Edition, the original PlayStation version of Street Fighter Alpha 3, and Devil May Cry 3 Special Edition on the PS2.
It also has another page compiling sales figures for all of its biggest franchises, so you can get a clearer sense of how big each series has been for the company.
STAT | 158 – The number of Mega Man games Capcom has released, the most of any of its franchises. However, Resident Evil is pursuing it Tyrant-like determination, with 155 titles to date.
STAT | 131 million – The total number of copies sold of Resident Evil games. Mega Man is falling further and further behind, with just 38 million sold between those 158 titles.
Beyond that, Capcom's IR page keeps a nice archive of old news releases, going all the way back to November of 2002 and the publisher's big announcement of a lineup of five exclusive Nintendo Gamecube titles, including Resident Evil 4, Killer 7, Viewtiful Joe, PN03, and Dead Phoenix.
QUOTE | "New 5 titles including latest sequel 'Resident Evil 4' for Nintendo GAMECUBE were publicly made known to the press and the industry." – A Capcom press release from November of 2002.
You might think a line like that in a press release would be a knock under our "Professionalism" criteria, but that gets more than offset by the professionalism and emphasis on disclosure and preserving history shown by not going back and deleting or fixing the press release.
Good job, Capcom.
I went back and forth on whether Nintendo should have been bumped up a spot here, because like Capcom, its biggest strength is transparency into sales figures. But where Capcom's IR page makes a really nice first impression with seasonal theming and the tiny Mega Man, Nintendo's is so bland it's essentially the exact opposite of the company's brand identity.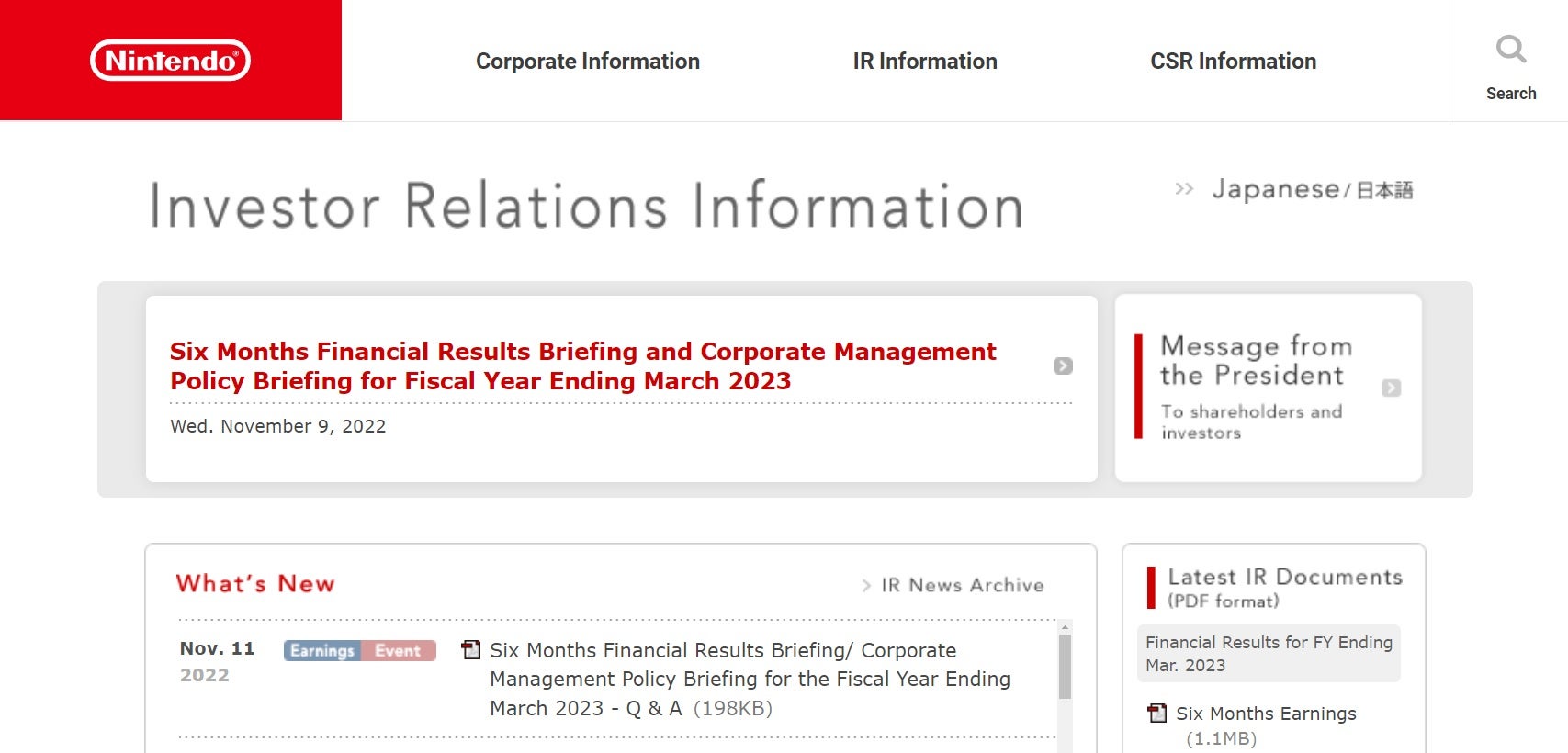 Nintendo keeps a page with cumulative worldwide sales figures for its hardware going back to the original NES, and another for its best-selling games by platform. As with Capcom's biggest franchises page, it can help put the relative importance of the company's biggest franchises into a new perspective.
For example, did you know Mario Kart 8 Deluxe is the best-selling Switch game with 48.41 million copies sold? And Mario Kart 8 was the best-selling Wii U game with 8.46 million sold?
What do you think the best-selling game on 3DS was? Mario Kart 7, of course, with 18.97 million copies sold.
How about Wii? Trick question, it was Wii Sports with 82.9 million because that thing was packed in with every unit sold in a lot of markets for a long time. But if you're looking for a fair answer to that question, it was of course, Mario Kart Wii with 37.38 million sold.
You have to go all the way back to the DS to find a Nintendo platform where Mario Kart wasn't the best-selling stand-alone game, as it finished a lowly third place with 23.6 million sold, behind Nintendogs (23.96 million split between multiple versions) and the very first New Super Mario Bros. (30.8 million sold).
As for the actual financial results, Nintendo does a perfectly cromulent job with them, and it releases translations of investor conference calls and the like some days after the original event, which again is a welcome feature for foreign investors and press. (I particularly like the interactive chart letting you map out various metrics over time.)
Unfortunately, there are a few weak spots. The hardware sales figures conveniently forget the Virtual Boy ever existed (a mark against on the Disclosure front), and there's basically no press release archive to speak of, save for the most bare bones of news releases related to the earnings and a scattering of announcements so big they were deemed relevant to the company's overall financial health.
At least its earnings reports so all the way back to the year 2000 though.
QUOTE | "The life-to-date units of GAME BOY hardware sales reached 100 million; a first in the history of game consoles. 'Pocket Monsters' (Pokémon) series software boosted GAME BOY hardware sales throughout the world. 'Kirby Tilt 'n' Tumble' was acclaimed as an unprecedented game equipped with a motion recognition sensor which enables game players to completely interact game characters by tilting the game machine up or down." – Nintendo updates investors on how the six months ended September 30, 2000 went.
Sony's here largely for its quarterly results page, which is easy to navigate and consistently compiles a wealth of information for investors, including webcasts, speech transcripts, and investor Q&A summaries. It's not laid out anywhere near as clearly as EA's and that broad array of disclosure is a more recent adaptation, so you don't have to go back too many years before the information becomes a lot more constrained. But it's still pretty good, all in all.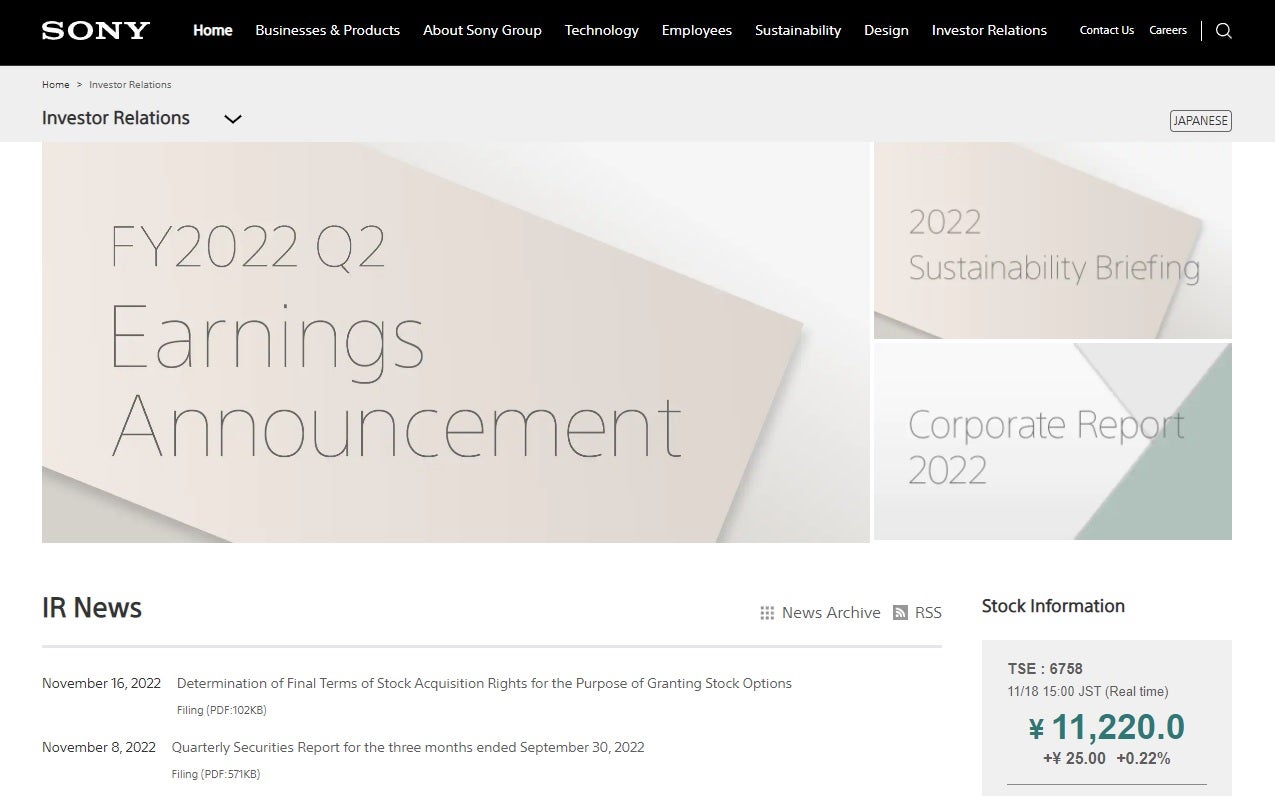 In fact, the data goes all the way back to Sony's fiscal 1998, when the company was still in the heyday of the original PlayStation console.
QUOTE | "Worldwide production shipments of PlayStation game consoles reached 4.5 million units during the quarter, and achieved cumulative production shipments of 37.32 million units as of June 30, 1998. PlayStation major hit software titles during the quarter included XI [sái] in Japan and Gran Turismo in the United States and Europe." – An excerpt from Sony's Q1 recap for the three months ended June 30, 1998.
As a nice bonus, Sony also an impressive archive of press releases going all the way back to 2000, and they cover everything from the trivial (the PSone release of NBA Shootout 2002) to the monumental (Sony's launch plans for the PlayStation 2).
The archive is unfortunately incomplete though, as it carried less and less gaming news over the year and stopped covering PlayStation entirely just before the PS5 launch in 2020.
Like EA, Activision Blizzard has a nice repository of quarterly earnings reports that makes it quick and easy to find the information you're looking for. It also goes all the way back to the company's Q1 fiscal 1999 results.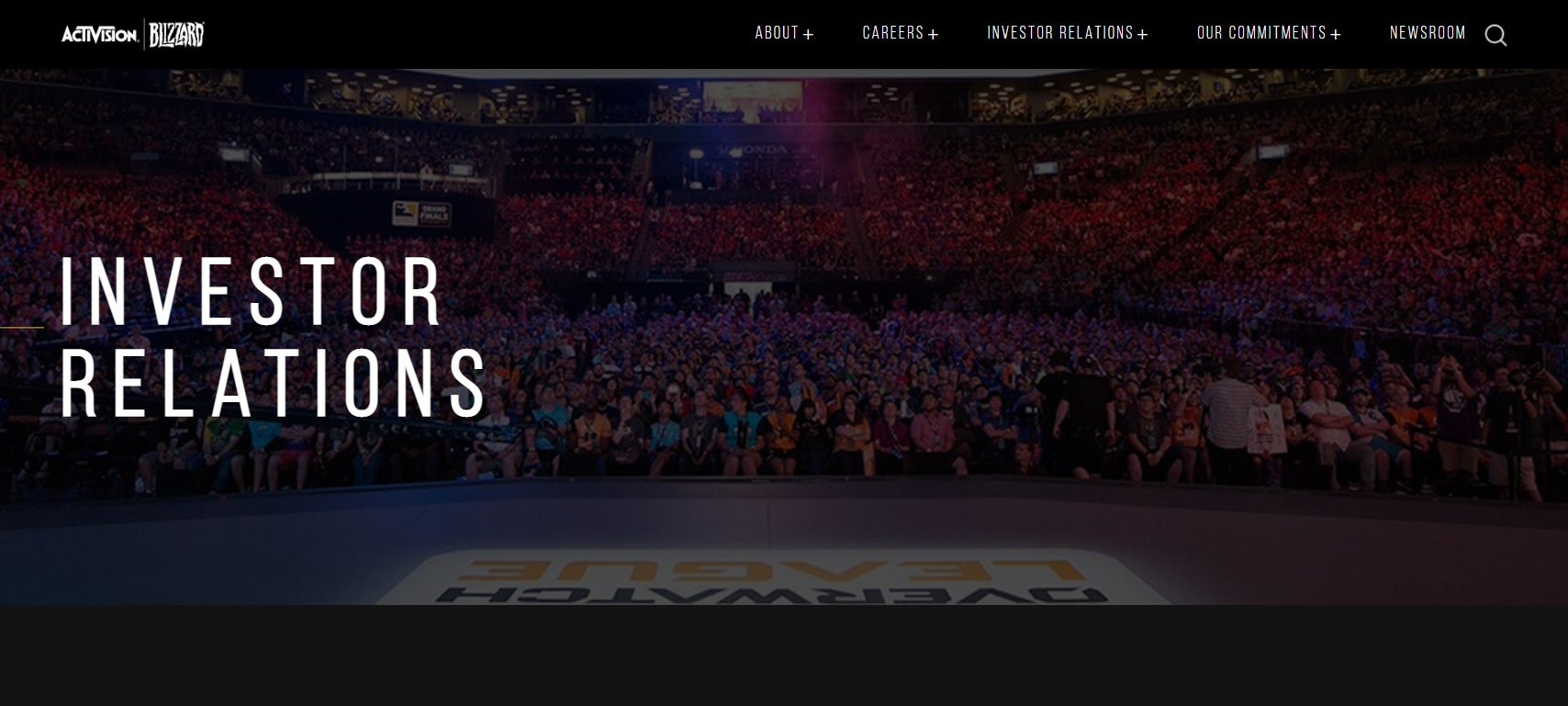 QUOTE | "We are pleased with consumer response to our recently released PlayStation game Vigilante 8 and expect that it will be one of our top-selling console games for the year. We believe we have one of the industry's most highly anticipated release slates with titles such as Civilization: Call To Power, Heavy Gear II, Heretic II, Fighter Squadron and Sin for the PC; Quake II, Apocalypse, Tenchu and T'ai Fu for the PlayStation; and Quake II and Nightmare Creatures for the Nintendo 64." – Activision CEO Bobby Kotick from the halcyon days of 1998, when Activision published so much more than Call of Duty.
It also has a press release archive that starts in October of 2002 with a press release about people being able to try out Tony Hawk's Pro Skater 4 at select stops of the Boom Boom HuckJam Arena Tour, which is really just fun to say.
"Boom Boom HuckJam."
But on top of delights like that, the press release archive gets even more bonus points on the History and Disclosure fronts for not whitewashing incredibly embarrassing chapters of Activision Blizzard history, like the time it needed a legal ace and turned to Rudy Giuliani, or that time it responded to an article about Kotick threatening to have an employee killed by pointing to its zero tolerance policy for inappropriate conduct, or that time it promoted a game by saying it "captures the epic intimacy of World War 2."
Just really amazing restraint there.
Honorable mention: Microsoft
I can't justify including Microsoft in the top 5 proper because it's such a massive company it gets away with giving very little insight into its games business, and it stopped reporting Xbox hardware sales figures as soon as it was clear the PS4 was wiping the mat with the Xbox One in a way there was no coming back from. (Actually, that was clear almost as soon as the two consoles launched in November of 2013 and Microsoft didn't stop reporting hardware sales until October of 2015, so maybe they should get some credit for holding out?)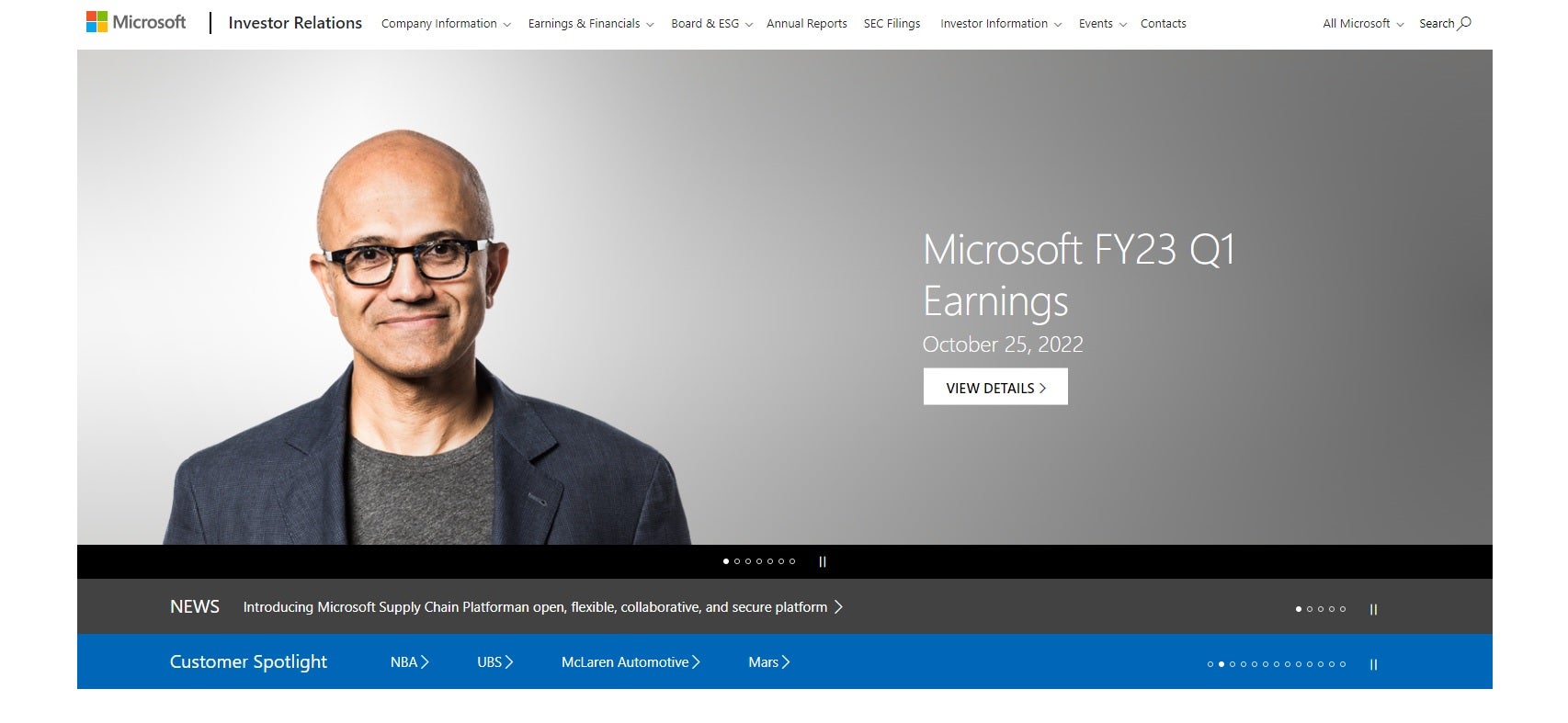 Regardless, Microsoft does deserve special credit for its archive of old press releases, going all the way back to its first steps into the console market.
QUOTE | "Dreamcast: The Ultimate Home Video Game System" – Microsoft, in a press release from May of 1998, announcing that Sega's new system would be compatible with Windows CE.
Dreamcast is the ultimate home video game system! The people who make Xbox even said so! You heard it, right? No backsies, Microsoft! At least not as long as you maintain this wonderfully rich treasure trove of old press releases covering everything from the acquisitions of Bungie, Ensemble, and Rare to the original Taco Bell and Mountain Dew Xbox marketing promotions that helped give form to what I will call Dorito Pope gamer culture.
QUOTE | "We're thrilled to team up with Microsoft as a promotional partner for Xbox, one of the most exciting entertainment products of 2001. Our energetic brand personality mirrors the edgy Xbox brand, which is already resonating with our customers." – Taco Bell VP of media, entertainment, and licensing Debbie Myers in April of 2001, seven months before the original Xbox hit shelves.
Now I know you've all got your personal favorite investor relations sites, so let's hear about them! Just sound off on your favorite social media platform using the super-catchy hashtag #WhyILoveMyFavoriteVideoGameInvestorRelationSite and maybe we'll include some of your thoughts when we revisit the issue in the future for our Bottom 5 Investor Relations Pages.
Boy howdy, I can practically feel the traffic spiking already.
The rest of the week in business
STAT | 14 years – The length of time NetEase has been publishing Blizzard's games in China. That partnership is going to change radically on January 23, when a key agreement will expire and take the bulk of Blizzard's catalog offline in China, including World of Warcraft, Overwatch, and Diablo 3. The two companies will continue to run Diablo Immortal, which they co-developed under a separate agreement.
STAT | 4.3% – Newzoo's projected decline for the global games market in 2022, the first time the firm has ever projected a decline in the gaming market.
STAT | 29% – Newzoo's projected growth for the global VR gaming market in 2022, largely due to the Meta Quest 2 stand-alone VR headset.
STAT | Flat – October's total US consumer spending on games was the same as it was last year. That's despite this October benefiting from the launch of Call of Duty: Modern Warfare 2, while Call of Duty: Vanguard was a November release last year.
STAT | 2 – God of War was the UK's second biggest physical game launch of the year, behind only FIFA 23. 82% of the launch-week sales came on PS5, with the remaining 18% on PS4.
QUOTE | "The statements posted online have incited harassment and threats of violence against Marty [Stratton], Chad [Mossholder], and the Id Software team." – Bethesda accuses Mick Gordon of inciting harassment by sharing his side of the story about how the botched Doom Eternal original soundtrack release went down. It doesn't seem to be concerned about Stratton publicly putting the blame on Gordon three years ago inciting harassment and threats of violence against him.
QUOTE | "We stand ready with full and complete documented evidence to disclose in an appropriate venue as needed." – Bethesda says it totally has receipts that prove Mick Gordon is in the wrong here, but nobody else can see them unless it's in an "appropriate venue." They didn't specify what would count as an appropriate venue, but judging by the way Marty Stratton originally threw Gordon under the bus, that would be a post on Reddit.
STAT | Roughly $14,000 – The total amount of money Yuji Naka could have profited from an alleged insider trading scheme if he purchased $20,000 shares in Dragon Quest Tact developer Aiming before the licensed game's announcement and sold them at the absolute height of the stock's value. The Sonic the Hedgehog creator has now been arrested and any talk of his legacy and career will include an asterisk for this incident, right after the asterisk for Balan Wonderland. Two other former Square Enix employees were arrested for insider trading on Aiming as well, thought they combined to buy more than 16 times the amount of shares Naka did.
STAT | $360 million – The amount of money Google paid Activision Blizzard over the course of three years for things like posting videos to YouTube. Google said the deals were to keep developers satisfied, but Epic claimed they were to prevent the company from launching its own Android app store. Google apparently had 24 such deals with large game publishers and app providers.
QUOTE | "It's always nice to imagine, when you hit a frustrating and intractable problem, that there's a technological solution just around the corner: a silver bullet that will fix everything without the enormous costs and responsibilities a conventional solution would demand. For community moderation, however, such a solution is resolutely not around the corner." – Our own Rob Fahey is skeptical about Ubisoft and Riot's new partnership to push AI-based text and voice chat moderation.
STAT | 7.31 million – The number of enforcement actions Microsoft took on the Xbox ecosystem in the first six months of 2022, according to its first ever Xbox Transparency Report. That's almost triple the enforcements it took in the previous six months, and a little less than double the enforcements of the comparable period the year before. Much of the boost was due to new automated moderation technology that actually is useful for identifying throwaway accounts used for spam, fraud or cheating.
QUOTE | "I don't want to announce pricing specifically, but I think you've got to be $129, $99, like somewhere in there for [Keystone] to make sense in my view, that we just weren't there." – Phil Spencer explains why the streaming-only Xbox TV plug-in code-named Keystone never made it to production.
QUOTE | "Listen, when I left [in May of 2012], we didn't see what eventually happened on the horizon. I'm not kidding, okay: we knew we were in trouble, but we knew we had a good line-up, and I thought we had enough money put away to support that stuff, finish it, and market it properly. We had a plan to live another day." – Former THQ exec Danny Bilson reflects on the publisher's long slide toward bankruptcy, as detailed in the latest 10 Years Ago This Month column.
QUOTE | "The Board of Directors decided on November 16 to launch a special review of our business to navigate the new market conditions and how we both make sure all businesses have all the tools to succeed and maximize long-term shareholder value creation. The outcome of this review may, for example, lead to board recommendations to make spin-off/s (under Lex Asea) into separate publicly listed companies in the future, if that is deemed to be the best for its employees, create higher shareholder value and improve our strategic flexibility." – After years of acquisition and expansion, the Embracer Group said in its latest earnings report that it's going to look at slimming down the operation.
QUOTE | "It was like, 'Yes, you can now spawn goats, however many you want.' After a while, the frame rate will tank, and maybe even crash the game, but that's fine. It's a weird game, and we're telling you upfront, 'You are God in this world.'" – Coffee Stain North CEO Sebastian Eriksson explains the player fantasy behind Goat Simulator.
QUOTE | "It was definitely the industry advice of the time to just use a font swap, which very much annoyed me, and that's why I'm trying to make changes." – Lowtek founder Alistair Low says the industry needs to improve accessibility for dyslexic players. He's been working on it himself with Dislectek, a Unity plug-in that lets developers add dyslexic-friendly text-to-speech options in their games.