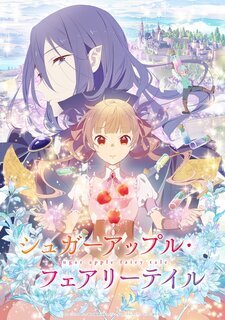 The official website of the Sugar Apple Fairy Tale television anime revealed additional cast, staff, the first promo, and a key visual (pictured) on Friday. The anime is set to premiere on January 6 at 9:30 p.m. on AT-X, followed by Tokyo MX, BS Asahi, Sun TV, and KBS Kyoto.


Cast

Cat: Takuma Terashima (Aharen-san wa Hakarenai)

Jonas Anders: Reiji Kawashima (Fumetsu no Anata e)

Keith Powell: Yuuto Uemura (Bungou Stray Dogs)


Staff

Sub-character Design: Mai Furuki (Mewkledreamy character design)

Art Director: Akira Suzuki (Shinigami Bocchan to Kuro Maid)

Color Design: Asuka Hino (Machikado Mazoku)

Director of Photography: Hidenori Manaka (Aria the Benedizione)

Editing: Yuuji Kondou (REAL-T) (Kimi to Boku no Saigo no Senjou, Aruiwa Sekai ga Hajimaru Seisen)

Sound Director: Jin Aketagawa (Kaguya-sama wa Kokurasetai: Tensai-tachi no Renai Zunousen)

Sound Effects: Yui Andou (Otome Game Sekai wa Mob ni Kibishii Sekai desu)

Sound Production: Magic Capsule


Voice actresses Minori Suzuki and Sumire Morohoshi are performing the opening theme "Musical" and the ending theme "Kanaeru," respectively, which are previewed in the promotional video below.


Youhei Suzuki (Urara Meirochou) is directing the television anime at J.C.Staff. Seishi Minakami (Toaru Kagaku no Railgun) and Haruko Iizuka (Horimiya) are handling the series composition and character design, respectively. Hinako Tsubakiyama (Sabikui Bisco) is composing the music.


The anime adapts Miri Mikawa's adventure fantasy light novel, which began publishing under Kadokawa's Beans Bunko imprint in April 2010, featuring illustrations by Aki. Kadokawa shipped the 17th and final volume in February 2015.


Alto Yukimura (Colette wa Shinu Koto ni Shita) serialized a manga adaptation on the Hana to Yume Online website from November 2012 to October 2014. The second and final volume was shipped in October 2014. Udon Yozorano began a second manga adaptation in Young Ace in November 2021. Kadokawa shipped the first volume on June 3.


Yen Press licensed both the light novel and second manga adaptation on March 25 and October 2021, respectively. The first light novel went on sale on October 4, with the second volume scheduled to be released on January 17. The first manga volume is set to release on April 18.


PV


Source: Comic Natalie