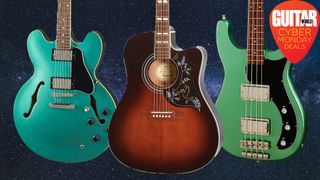 (Image credit: Musician's Friend)

Cyber Monday has arrived, with plenty of mouth-watering Cyber Monday guitar deals following right behind it.
Plenty of the most enticing of these eyebrow-raising sales have been on electric guitars, bass guitars and acoustic guitars, with many of the best of these, in turn, centering on Epiphone models.
Epiphones are widely revered for bringing top-notch setups, vintage looks and a wide array of tones to the table at prices attainable for the working musician.
This Cyber Monday, prices on a variety of Epiphones have been cut significantly. Whether you're in the market for a beginner electric guitar, a 'Burst that doesn't cost as much as a Ferrari or a bass that oozes retro charm, you can find it on sale here. 
You can bet, though, that these deals won't last forever, so be sure to strike while the iron's hot.
Thank you for reading 5 articles this month*
Join now for unlimited access
US pricing $3.99 per month or $39.00 per year
UK pricing £2.99 per month or £29.00 per year 
Europe pricing €3.49 per month or €34.00 per year
*Read 5 free articles per month without a subscription
Join now for unlimited access
Prices from £2.99/$3.99/€3.49