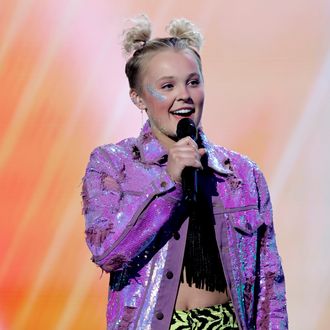 Photo: Kevin Winter/Getty Images for iHeartRadio
Update November 16: Candace Cameron Bure has responded to the backlash over her Wall Street Journal interview. And apparently, it's our fault we misinterpreted her (and God's) love. "It absolutely breaks my heart that anyone would ever think I intentionally would want to offend and hurt anyone," she wrote on Instagram. "It saddens me that the media is often seeking to divide us, even around a subject as comforting and merry as Christmas movies. But, given the toxic climate in our culture right now, I shouldn't be surprised."
"If you know me, you know that I am a person who loves fiercely and indiscriminately," Bure said, about her decision to move to a company that would exclude non "traditional" marriage in its storytelling. Bure went on to say that "people of all ethnicities and identities have and will contribute to the network in great ways both in front of and behind the camera, which I encourage and fully support."
Original story follows.
Uh, oh. Fuller House's Candace Cameron Bure is being homophobic again. And former ponytail icon and current gay icon Jojo Siwa is back like a boomerang to call it out. Siwa responded to Bure's comments on the future of her partnership with Great American Family on Instagram on Tuesday. Bure, who left her partnership with Hallmark earlier this year, moved over to Great American Family because she believes they will keep "traditional marriage at the core." According to her, the content under her "Candace Cameron Bure Presents" umbrella will not feature LGBTQIA+ couples. Siwa called Bure's anti-LGBT stance "rude and hurtful to a whole community of people."
However, not everyone in the Fuller House family shares her beliefs. Her co-star Jodie Sweetin commented on Siwa's post to support her, writing, "You know I love you." In an Instagram story later in the day, Siwa continued sharing her thoughts on Bure's comments, calling them "embarrassing."
Earlier this year, Siwa revealed in a Tik Tok that the "rudest" celebrity she's met was Bure, after Bure allegedly refused to take a photo with Siwa during an after-party when she was a child. Bure explained on Tik Tok that she called Siwa to apologize; however, Siwa said Bure "didn't share all of the details" in the video but still accepted her apology.
JoJo Siwa on Candace Cameron Bure's Anti LGBT Comments