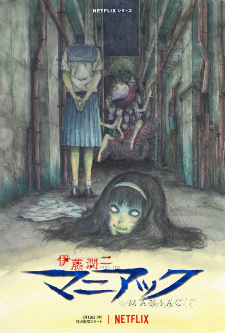 The official website of the Itou Junji: Maniac (Junji Ito Maniac: Japanese Tales of the Macabre) anime series revealed on Friday 13 additional cast members and a second promotional video, previewing the Tomie story. The anime is scheduled to premiere worldwide on Netflix on January 19.
Rojiura (The Back Alley)

Ishida:
Yuto Suzuki
(
Servamp
)
Ren:
Seiko Ueda
(
Dennou Coil
)
Tunnel Kitan (The Story of the Mysterious Tunnel)

Gorou: Shun Horie (Kanojo, Okarishimasu)

Mari: Tomomi Mineuchi (Dolls' Frontline)

Koyama: Risa Mizuno (Akame ga Kill!)
Kabi (Mold)

Akasaka: Daisuke Hirakawa (JoJo no Kimyou na Bouken Part 3: Stardust Crusaders)

Seiji: Kousuke Okano (Hiiro no Kakera)

Ken Uo (Dragon Ball Super)
Kyoufu no Juusou (Layers of Fear)

Rei Minoru: Lynn (Kidou Senshi Gundam: Suisei no Majo)

Narumi: Romi Park (Shingeki no Kyojin)

Haha: Mina Kobayashi (Aoi Hana)
Hyouchaku-mono (The Thing that Drifted Ashore)

Umi Hirohara: Kaito Ishikawa (Seishun Buta Yarou wa Bunny Girl Senpai no Yume wo Minai)

Mie: Yuko Kobayashi (Tenchi Muyou!)
Shinobu Tagashira returns from the Itou Junji: Collection anime as director and character designer at Studio Deen. Other returning staff includes scriptwriter Kaoru Sawada, sound director Hozumi Gouda, and music composer Yuuki Hayashi.
The anime adapts 20 stories from Junji Itou's horror manga collection, Itou Junji Kessaku-shuu (Junji Ito Masterpiece Collection).
PV 2
Source: animate Times