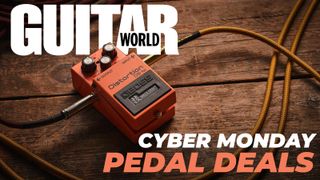 (Image credit: Future)

Well, Cyber Monday has officially ended, and with it a lot of Cyber Monday pedal deals. If you missed the sale don't fret, there are still plenty of retailers out there offering great deals on stompboxes.
Over the last few days, we've seen huge discounts applied to big-name brands, such as Boss, MXR, JHS, TC Electronic, NUX, Pigtronix, and so many more – and luckily most retailers have launched brand-new sales! Over at Guitar Center, they've launched their Holiday Deals, which sees excellent savings on top-selling music gear (opens in new tab). Meanwhile, the Musician's Friend Cyber Week sale continues to offer up to 50% off until December 4th (opens in new tab).
Of course, it's not only heavily discounted stompboxes on offer, but there are also deals on patch cables, pedalboard power supplies, and everything else you may need to build your dream pedalboard. 
If you're looking for even more deals this Cyber Week, be sure to check out our Cyber Monday guitar deals (opens in new tab) page.
Cyber Monday guitar pedal deals: Quick links
Our recommendations for where to shop this Cyber Monday:
Cyber Monday guitar pedal deals: Top deals
Cyber Monday guitar pedal deals: FAQ
Cyber Monday 2022 will land on Monday November 28. The deals won't be restricted to just that day, though. Previous experience tells us that some of the best Cyber Monday guitar effects deals will emerge well in advance of the event and keep going for at least a few days after – so keep checking this page to see what epic stompbox offers we uncover. 
Cyber Monday guitar pedal deals: what to expect
As you'd expect, all major musical instrument retailers get in on the Cyber Monday action, slashing prices on a wealth of products, services and of course, guitar pedals!
Last year we saw money off all the pedal big hitters, with the prices slashed on everything from Boss to MXR, JHS to TC Electronic – and we have our fingers crossed we'll see the same this year. 
Now, if you have all the pedals you'd ever need, Cyber Monday is still a great time to stock on pedalboards and pedal accessories such as patch cables, power supplies and carry cases. 
Cyber Monday guitar pedal deals: how to prepare
Our biggest tip to get ready for the best Cyber Monday guitar pedal deals is to get your research done super early. Work out what you need, not just what you want, and get your wishlist together asap. Make a note of prices as early as possible so you know if a deal is really as good as it suggests when it drops into your inbox or appears on your social media feeds.
To help you create your dream shopping list, take some time out to explore our expert buying guides and product reviews.
Should I buy guitar pedals online during Cyber Monday?
If you're concerned about buying a guitar pedal or other gear on Cyber Monday without trying it first, you needn't be. Online music instrument retailers like Guitar Center (opens in new tab) , Musician's Friend (opens in new tab) and Sweetwater (opens in new tab) offer hassle-free returns as standard, so you can purchase a guitar pedal, test it in the comfort and privacy of your home and, if it's not right, send it back without issue. 
You should check the specific returns policy for your chosen retailer before you purchase, but most offer between 30-45 days to return an item, as long as it's in original condition.
Cyber Monday guitar pedal deals: Last year's top deals
Here's a flavor of last year's most epic Cyber Monday guitar pedal deals to give you an idea of what to expect in 2022.
Thank you for reading 5 articles this month*
Join now for unlimited access
US pricing $3.99 per month or $39.00 per year
UK pricing £2.99 per month or £29.00 per year 
Europe pricing €3.49 per month or €34.00 per year
*Read 5 free articles per month without a subscription
Join now for unlimited access
Prices from £2.99/$3.99/€3.49