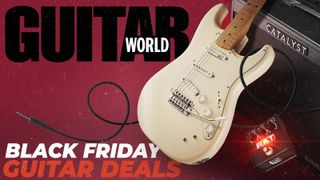 (Image credit: Future)
Black Friday may still be some days away, but in reality, this sale extravaganza is already here, with loads of retailers dropping their official (or early) sales well ahead of schedule! Luckily you've come to the right place. We've got all the information you need for the sales event of the year, as well as some early bargains you can take advantage of right now. 
As you know, Black Friday takes place the day after Thanksgiving in the US, which means this year Black Friday will kick off on Friday, November 25, with sales continuing through the weekend until Cyber Monday on November 28.
If you're in the mood for a bargain right now and want to beat the rush next week, your best bet is Sweetwater's official Black Friday sale (opens in new tab) where there are big discounts available on everything from guitars and amps, to pedals and accessories through 27 Nov. And Musician's Friend have dropped their holiday deals, promising up to 40% off a range of music gear (opens in new tab).
If this year is anything like last year, then we'll be in for a treat, with hundreds of dollars slashed off big-name brands – so whatever you're looking for, you'll find it this Black Friday. From enticing offers on electric guitars and eye-watering discounts on acoustic guitars to budget-friendly pedal deals and even outstanding bass guitar prices – there really is something for everyone. 
Black Friday guitar deals: Quick links
Black Friday guitar deals: Electric guitar deals
Black Friday guitar deals: Guitar amp deals
Black Friday guitar deals: Acoustic guitar deals
Black Friday guitar deals: Pedal deals
Black Friday guitar deals: Software deals
Black Friday guitar deals 2022: FAQ
Black Friday 2022 will land on Friday, 25 November. The deals will extend across that weekend (also known as Cyber Weekend) before finishing with a bang on with Cyber Monday guitar deals on 28 November.
The deals won't be restricted to those four days, though. Previous experience tells us that some of the best Black Friday guitar deals will emerge well in advance of the event – so keep checking this page to see what epic deals we uncover. 
Black Friday guitar deals 2022: what to expect
All major musical instrument retailers get in on the Black Friday guitar deals action, slashing prices on a wealth of products.
We've included some highlights from last year below, but some of our favorite deals included $100 off the stunning Epiphone ES-335 Traditional Pro, $170 off the Schecter C-1, as well as hundreds off lots more big-name brands. These Black Friday electric guitar deals sold out quickly, so it pays to be first out of the gate – if you see a deal you like, grab it!
The Amazon (opens in new tab) and Walmart (opens in new tab) Black Friday sales will be huge, too. Not only do they sell a fair range of music-making gear, but these are also the places to pick up things like wireless headphones and Amazon Echo devices.
Black Friday guitar deals 2022: Will there be stock issues?
It's no secret that there are massive issues with stock at the moment – and not just with guitar gear. With shortages worldwide and increased demand, it seems getting your hands on that particular guitar is going to be more complicated than ever. 
Now, while it will undoubtedly vary from retailer to retailer and even depend on where you are in the world, our advice remains the same –  if you see a great deal on a piece of gear you want, grab it straight away – if you hang around, you are likely to miss out. 
As we get closer to Christmas, there is a potential for delivery delays, so we'd recommend ordering as early as possible to avoid the risk of the item not arriving on time. Luckily the Black Friday guitar deals tend to start early, so you should be able to grab a bargain in time. 
Black Friday guitar deals 2022: how to prepare
Our biggest tip to get ready for the best Black Friday guitar deals is to get your research done super early. Work out what you need, not just what you want, and get your wishlist together asap. Make a note of prices as early as possible so you know if a deal is really as good as it suggests when it drops into your inbox or appears on your social media feeds.
To help you create your dream shopping list, take some time out to explore our expert buying guides and product reviews.
Should I buy guitar gear online during Black Friday?
If you're concerned about buying a guitar or other gear on Black Friday without playing it first, you needn't be. Online music instrument retailers like Guitar Center (opens in new tab) , Musician's Friend (opens in new tab) and Sweetwater (opens in new tab) offer hassle-free returns as standard, so you can purchase a guitar, play it in the comfort and privacy of your home and, if it's not right, send it back without issue. You should check the specific returns policy for your chosen retailer before you purchase, but most offer between 30-45 days to return an item, as long as it's in original condition.
What else can I buy during Black Friday 2022?
It's not just about the Black Friday guitar deals in November. Aside from music-making gear discounts, you'll find bargains on great tech like robot vacuum cleaners, iPads, MacBook Pros and Amazon Echos – and you can even pick up groceries, pet food and dishwasher tablets – but it's the guitar deals we'll be looking out for.
Black Friday guitar deals 2022: Last year's top deals
Here's a flavor of last year's most epic Black Friday guitar deals to give you an idea of what to expect in 2022.
More great Black Friday deals
Thank you for reading 5 articles this month*
Join now for unlimited access
US pricing $3.99 per month or $39.00 per year
UK pricing £2.99 per month or £29.00 per year 
Europe pricing €3.49 per month or €34.00 per year
*Read 5 free articles per month without a subscription
Join now for unlimited access
Prices from £2.99/$3.99/€3.49