The craze for being the first person at a brand new store opening, especially when the owner is MrBeast and David Dobrik, is immense. Thus, if you look at the videos and photographs shared by the content creators on their Instagram or YouTube channels, you might find a crowd filled with thousands of fans waiting for their chance to get a hand on their products.
ADVERTISEMENT
Article continues below this ad
But the real question is who is the first person who got to meet MrBeast and David Dobrik as they opened their first physical burger place and Pizzeria? And the answer to that is Victor Galvan, a small YouTuber who took the huge task of gifting celebrity content creators like MrBeast, David Dobrik, and Logan Paul incredible handmade mementos.
ADVERTISEMENT
Article continues below this ad
Who is Victor, the first customer for both MrBeast and David Dobrik's fast food corners?
There are several people who were inspired by MrBeast and started doing amusing stunts in public and even asking people to try various challenges to win money. Victor Galvan, who is a Gym enthusiast and has a real passion for YouTube and belongs from Omaha, Nebraska, is one such person. He is a YouTuber with more than 62.1K+ subscribers and is also known for making several mementos for celebrity content creators like Logan Paul, MrBeast, and David Dobrik.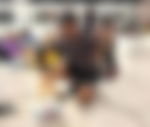 His channel, VicInTheGame, features him and sometimes his friends Rodolfo Jacinto, Alex Rubio, and Briteney Aguirre.
Victor especially became known to fans for his sometimes extreme vlogs that are rather unique to watch. Also, the content creator's video editing style matches a lot to that of MrBeast and thus it seems that he is truly attached to the 'King of Content'.
ADVERTISEMENT
Article continues below this ad
Why is he getting so much attention lately?
Notably, Victor is also known as the first person to enter MrBeast Burgers' first official outlet at the American Dream mall and gift him a mini statue of MrBeast himself. While he waited for the opportunity for two days outside of American Dream Mall, the content creator took it even further, when he waited for four days in a tent, outside David Dobrik's pizzeria, Doughbrik's.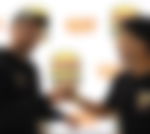 ADVERTISEMENT
Article continues below this ad
Additionally, Victor also gifted David Dobrik a memento designed on his pizzeria's logo. And was the first customer to taste his pizza.