Leave it to Stephen Curry to finish the job. The Golden State Warriors superstar is a gift that keeps on giving. His incredible performances have been masterclasses for many players. His games alone have been pure entertainment for fans to witness. Forbes once called him a wizard over a warrior for his truly magical performances.
ADVERTISEMENT
Article continues below this ad
In the game between the Houston Rockets and the Golden State Warriors, the latter won by a 7-point difference. However, Stephen Curry took the cake with his unbelievable game. Curry made the ball fly across the court late in the fourth quarter and scored a fadeaway three-pointer.
ADVERTISEMENT
Article continues below this ad
Fans went wild after seeing Curry put the Rockets to sleep. It was definitely worth a 'Night, Night' celebration. Even on social media, people couldn't stop lauding the reigning Finals MVP.
Here are some of the reactions from NBA Twitter:
Even one of the rockets coaching staff was amazed lol

— Tacos Al Pastor (@TacosPastor831) November 21, 2022
Jesus 🤯 and he hopped into the Night Night 😴🤣

— Jessica Elijah, MBA (@thejesselijah) November 21, 2022
Watching this live The moment it left his hands i said no way that goes in and boom swish!! Omfg this man is unreal

— E (@696edo) November 21, 2022
That shot was insane but it's Steph so what can you say

— Cm0ney_SZN ⁶𓅓 (@Cmoney233454) November 21, 2022
Stephen Curry is the third-highest scorer in the league today. He is averaging 32.2 points per game so far this season and has a great shooting percentage as well.
After their narrow win against the Cleveland Cavaliers on 11 November, Curry told the media that it was significant to "find creative ways to finish".
Stephen Curry bowls everyone over
He also made history alongside Klay Thompson and Andrew Wiggins to get a combined 23 three-pointers. This record is unprecedented, making it the first trio to get this tally in NBA history.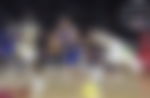 Despite being on the other side of 30, he is arguably one player that defies age. His creativity in shooting, and dribbling mastery has made him the cut above the rest.
The Warriors won their first road game of the season by defeating the Rockets in Houston 127-120.

Klay Thompson (10), Stephen Curry (7), and Andrew Wiggins (6) combined on 23 3-pointers, the most by a trio in a game in NBA history. pic.twitter.com/5ieWYTsDnM

— ESPN Stats & Info (@ESPNStatsInfo) November 21, 2022
ADVERTISEMENT
Article continues below this ad
But what is crucial is that the team also brings forth such inspired performances. ESPN's Stephen A. Smith said that the franchise needs to make their team tight and solid, "because you can't waste Steph Curry playing like this".
Watch This Story: All the Viral Moments Ex-President Barack Obama Has Shared With Michael Jordan, LeBron James, Stephen Curry, Dwyane Wade, and Other NBA Stars
ADVERTISEMENT
Article continues below this ad
The Golden State Warriors are not absent-minded about their golden boy though. Steve Kerr, the head coach of the Warriors, succinctly echoed what everyone felt about Stephen Curry. "You run out of adjectives to describe Steph's play," Kerr said.
What did you make of Curry's three-point shot against the Rockets? Let us know in the comments below.