The NBA today has some of the greatest three-point shooters ever seen. Almost all players in the NBA can knock down a three and many of them do it on a consistent basis. But there is an upper echelon of shooters who have to be guarded at all times and at all spots on the court. So when Kevin Durant was asked to choose between Stephen Curry and the NBA 3 Point % leader, he had an interesting answer.
ADVERTISEMENT
Article continues below this ad
The NBA's all-time three-point leader, Stephen Curry, has made a scorching start to the season. The 2022 Finals MVP is arguably having the best year of his career at the age of 34. Curry is averaging 32.2 PPG, 6.6 APG, and 6.7 RPG on 52% from the field and 44% from the three-point range. In just 15 games, Curry has shot 84 threes, which is 24 more than the next best. This is just one of the many reasons why he is arguably the greatest shooter of all time.
ADVERTISEMENT
Article continues below this ad
But the NBA three-point percentage leader also seems to have a case to make. Yuta Watanabe of the Brooklyn Nets is having a terrific year for the Nets from distance. He leads the NBA in shooting percentage with 57.1%. He has been on a tear this season and he is making his case for the best shooter in the league.
Kevin Durant chooses himself between Stephen Curry and Yuta Watanabe
The Brooklyn Nets were in action against the Memphis Grizzlies and they were able to secure the victory. The Nets had Kyrie Irving return to the lineup after he had missed eight games due to his suspension. The Nets have won two games in a row now and they will be keen on getting back on track this season.
DIVE DEEPER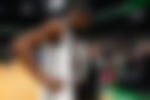 Watanabe had another great game as he finished with 16 points on 6-9 shooting and 4-6 from three-point range. In the post-game press conference, his teammate Kevin Durant was asked an interesting question. He was asked to choose between Watanabe and Curry in a three-point contest.
Interestingly, KD said he would choose himself, but the reporter said that wasn't an option. He said, " The god Steph of course, but Yuta is definitely knocking it down right now."
ADVERTISEMENT
Article continues below this ad
Durant would obviously have great confidence in himself as he is having a great year. He is averaging 30.6 PPG, 5.2 APG, and 6.6 RPG on 52% from the field and 34.7% from the three-point range. KD famously beat Curry in a game of P-I-G when he was at the Golden State Warriors.
WATCH THIS STORY: LeBron James floored by Kevin Durant ending a man's career with his iconic move during Nets vs Wizards
ADVERTISEMENT
Article continues below this ad
But KD chose Curry as he is arguably having an MVP-type season. Watanabe would have possibly been disappointed that his teammate didn't stick with him, but he did get his props at the end. It will be very entertaining to see the All-Star three-point contest if these two go head to head.
Who would you choose? Let us know in the comments below.