Jackie Chan needs no introduction when it comes to martial arts. He is also a reputed actor. Jackie's early martial arts career helped him achieve the glory he has in the film industry. The legend is currently 68 years old and still plans to do big things. He isn't backing off yet. He has even shifted from action comedy, which he used to perform in his prime.
ADVERTISEMENT
Article continues below this ad
A picture of Jackie Chan, Chris Tucker, and Shaquille O'Neal at the 1998 MTV Video Music Awards was lost with the flow of time. Although the picture shows the huge height difference between the martial arts legend and the former professional basketball player.
ADVERTISEMENT
Article continues below this ad
No comparison needed
Shaquille O'Neal who is also known as "Shaq" looks enormous with the martial arts legend Jackie Chan. Even Hollywood legend Chris Tucker pales in comparison to his height.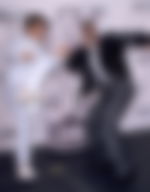 It's the only Jackie Chan appearance on this most prestigious music awards night. Just after finishing the movie shoot for "Gorgeous" in Hong Kong and going back to America for the "Rush Hour" public media promotion with fellow lead star Chris Tucker together.
The 1998 MTV Video Music Awards were really a night of stars. As the legend, martial artist, and Hollywood icon were joined by Shaq for a picture. Jackie, who is 5'9″ in height, looks nothing in comparison to the giant 7'2″ Shaq. Tucker, also 6'1″, fails to even get closer to the giant. 
The event was just 3 years after the debut of Chris Tucker in Hollywood, and he was working with the world-famous actor Jackie Chan.
The acting career of Jackie Chan
Jackie Chan, who was born in Hong Kong, did not always find it easy to achieve his current level of success. He has also been through a lot of injuries throughout his acting career.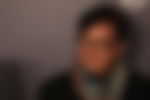 He had a broken nose several times, an eye injury, a dislocated shoulder, multiple broken fingers, a rib injury, and every part of the body. Although having frequent injuries, he didn't stop there. He had a dream, and he was also determined to achieve it.
ADVERTISEMENT
Article continues below this ad
Jackie had to perform the stunts on his own back in the day due to a lack of technology and money, which mostly landed him in the hospital. He is the definition of a real stuntman.
ADVERTISEMENT
Article continues below this ad
WATCH THIS STORY – Bodybuilding Legend Arnold Schwarzenegger's Built Compared to Bruce Lee and Jackie Chan 
A martial artist, a reputed actor, and a glorious stuntman, Jackie has done it all! What do you think of the legend's acting career? Let us know in the comment section.