After finishing their careers as professional athletes, many basketball players find themselves in numerous auxiliary roles around the game. Likewise, former Israeli hooper Mickey Moshashvili found his calling as a private trainer after his stint with basketball. Incidentally, after years of making connections, Moshashvili landed a job training LeBron James and Scottie Pippen's sons at a top high school on the West Coast.
ADVERTISEMENT
Article continues below this ad
Earlier this year, Mickey Moshashvili found himself at the Sierra Canyon High School facility in California. Moshashvili was interviewing for an opportunity at the prestigious institution. However, in a surprising turn of events, Bronny James, son of LeBron James, played a crucial role in the selection process. Here's how.
ADVERTISEMENT
Article continues below this ad
LeBron James' son Bronny motivated Israeli trainer to overcome nervousness
After an unorthodox visit to the secretary's office followed by a meeting with the sports director, Mickey Moshashvili found himself interviewing for a trainer role at the Sierra Canyon High School in California. The school's prestigious reputation and world-class basketball program have attracted the best talent at the high school level.
Thus unsurprisingly, Moshashvili was nervous about the interview. However, to his surprise, when he arrived at the school's facility, he was greeted by Bronny James and Co. Moreover, he was asked to give them a 12-minute personal training session.
DIVE DEEPER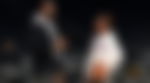 Moshashvili felt stressed after the revelation of his selection process. However, he found motivation from the most unlikely person at the facility; Bronny James. After sensing his nervousness, the mature 18-year-old approached Moshashvili and tried to motivate him. In an interview, Moshashvili revealed how the comforting words of Bronny fueled his motivation.
He admitted, "I was a bit stressed out and Bronny (Lebron's eldest) immediately picked this up. So he approached me and said, 'You have it in you, bro.' From that moment onwards, I had the best three minutes of my life." Bronny's uplifting words landed Moshashvili the job as a scouter, player development coach, and video editor under a 2.5-year contract. 
Moshashvili on Sierra Canyon's basketball program
In the interview, Moshashvili also gave an insight into the Sierra Canyon High School's basketball program. He lauded the school's commitment to sports and revealed players' routines. The players at the school undergo three hours of training every day, excluding the time spent at the gym.
Watch the Story – 14 years after father LeBron James, son Bronny follows his footsteps by signing iconic deal with $3 billion brand
Moreover, he also shed light on the King's involvement in his sons' careers. When asked how involved James is, Moshashvili replied, "Very involved." He then described how he got to meet LeBron James in person. 
Do you think Bronny has what it takes to become an NBA superstar like his father? Let us know in the comments below. 
ADVERTISEMENT
Article continues below this ad
ADVERTISEMENT
Article continues below this ad