NASCAR has been no short of controversy throughout its existence. Some of them have been major, some minor, but controversy never leaves the side of the sport. Recently, NASCAR announced the cancelation of the one attraction in Nashville that fans loved watching. Fans castigated this decision. Soon, a NASCAR insider stated his opinion on the matter. However, even that did not help alter the consensus.
ADVERTISEMENT
Article continues below this ad
Pockrass mentioned, "Obviously there still aren't many "extra" cars as far as Next Gens (although certainly some show cars). My view is where there's a will, there most often is a way and I'm just not sure the cost/time/personnel/logistics/cleanup it takes for burnouts was worth it to NASCAR/city."
ADVERTISEMENT
Article continues below this ad
Fans responded:
Sadly not everyone has Peacock. Alienating viewers and fans.

— Tina Minkkinen (@tminkkinen) November 19, 2022
Why even go if there will not be burn outs. Canceled the trip!

— Todd Davis (@Todd_27_Davis) November 19, 2022
Even this season, there have been multiple controversial moments, all the way from driver safety arguments, to the wreck that happened at Daytona.
The NASCAR controversy at Daytona this year
ADVERTISEMENT
Article continues below this ad
In what was a NASCAR-caused drama at the last race before the playoffs began. The Coke Zero Sugar 400 at Daytona International Speedway saw the entire grid feel the brunt of the official's indecision as the rain dropped in.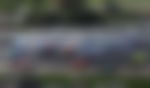 NASCAR failed to wave the caution flag as the weather showcased its colors. As a result, the cars racing on the banked track lost control one by one and plummeted into one another. In the process, ruining several driver's cars while there were barely 21 laps remaining for the race to end. NASCAR cars aren't good enough to race in the rain, especially at ovals and banked tracks, hence when the rain dropped in, chaos ensued on the track.
ADVERTISEMENT
Article continues below this ad
Watch This Story: Danica Patrick Took a Jibe at "Calm" Kyle Busch for His Antics Earlier This Season
NASCAR officials faced heavy criticism for not waving the flag a lap earlier in order to avoid the carnage that nearly took apart half the grid. Driver Justin Haley stated, "That was pretty unacceptable." Sure, it was unacceptable as the officials have equipment with the technology that predicts and gives them a heads-up on the weather. However, still there was a failure on their part to take necessary action. The drivers and fans heavily criticized the organization on social media. Many called this to be a lapse on NASCAR's part in paying attention to drivers' safety and preventing such major wrecks.